Bill Alston
The Marvin

The Marvin has appeared in the past in two models the Marvin 64 limited edition of 2004 guitars in 2004 and the Marvin 1964 released in 2007 and discontinued around 2016. These are fully described on Trevors site.

The current model is the Marvin Legend also called the Legend Marvin at the time of writing, December 2016, Thomann have a guards red one for sale for &pound1210, the RRP being &pound1495. This guitar has just vanished from the Burns website to be replaced with what looks like exactly the same guitar called The Hank Marvin Signature Limited Edition however further dowm the page it refers to itself as The Burns Shadows Custom Edition what it now says on the headstock I can't make out. So full details are on the Burns site
Specs
Body made from selected American alder
Bolt-on neck in Canadian maple
Maple fretboard
Length: 648 mm
Nut Width: 43 mm
Neck radius: 300 mm
21 frets
Pearl Dot inlays
Pearl neckbinding
Scroll Headstock
Pickup: 3 handmade Burns Rez-O-Matik US Alnico Magnet Single Coils with 1964 specifications
1 Volume control
2 Tone controls with push / pull function for switching the pickup
5-Way pickup selector
Burns Rez-O-Tube Tremolo with engraved Hank Marvin Signature
Burns Deluxe machine heads
Chrome hardware
Burns Gear-O-Matik Gearbox Truss Rod
Weight: approx. 4.6 kg
Some Pictures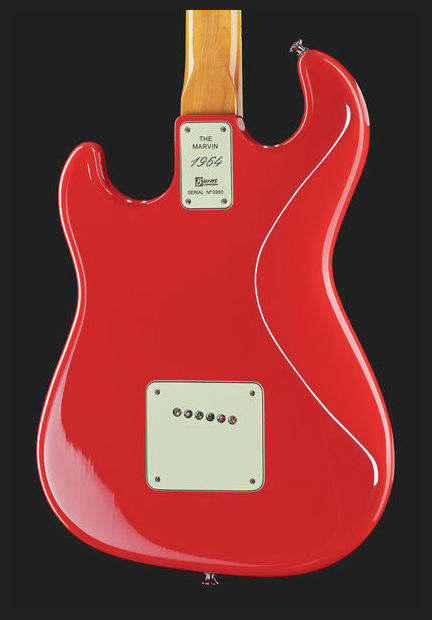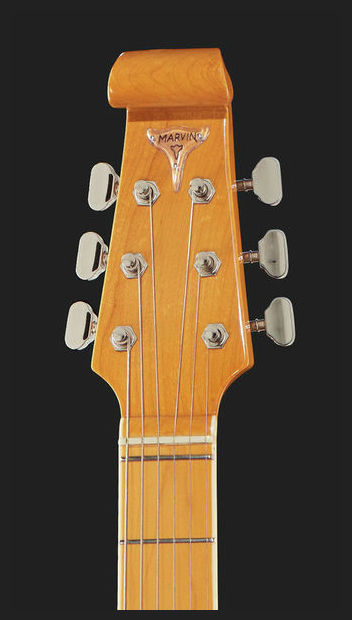 A Custom Built 1997 Marvin
In 1997 a UK Custom built Marvin Legend S Guitarman model was made this came up for sale on Ebay in 2014 at &pound1999 but attracted no bids. These are the details from that listing.

A very rare UK Custom Shop "Marvin reissue" model with flat top and back + piezo transducer Neck : One piece premium sycomore highly figured-flammed (see photos), bolt-on 4 points, scroll matching headstock, nice purple PAU-FERRO fingerboard with pearl dots and white binding, 22 vintage frets + zero fret, black phenol nut, Bi-Flex truss-rod, access by Gear-box under rear little black neck plate.
Body : Solid mahogany center and thick canadian flammed maple top and back, grey shell multi-plys scratchplates, white plastic parts.
Hardware : All gold, Sperzel machine heads, Rez-O-Tube bridge-tremolo with individual saddles and "GuitarMan" logo special limited order engraved on plate.
Pickups : 3 Burns Rez-O-Matik UK Jim Cairns handmade with white covers vintage type gold engraved + 1 Fishman Piezo-transducer with high output (under the 6 saddles bridge)
Routing : 4 controls pots, 1 blade-switch 5 pos. (magnetic PU), 1 blade-switch 3 pos. (PU/PU+piezo/Piezo only) + push-pull on vol.pot (Total : 7 combinations PU) * Controls : Vol & tone PU / Vol & tone transducer * 2 separate output jacks (all and piezo only). Colour : Translucent blue-sunburst polyester (body), matching headstock and rear neck !
The Ebay guitar pictures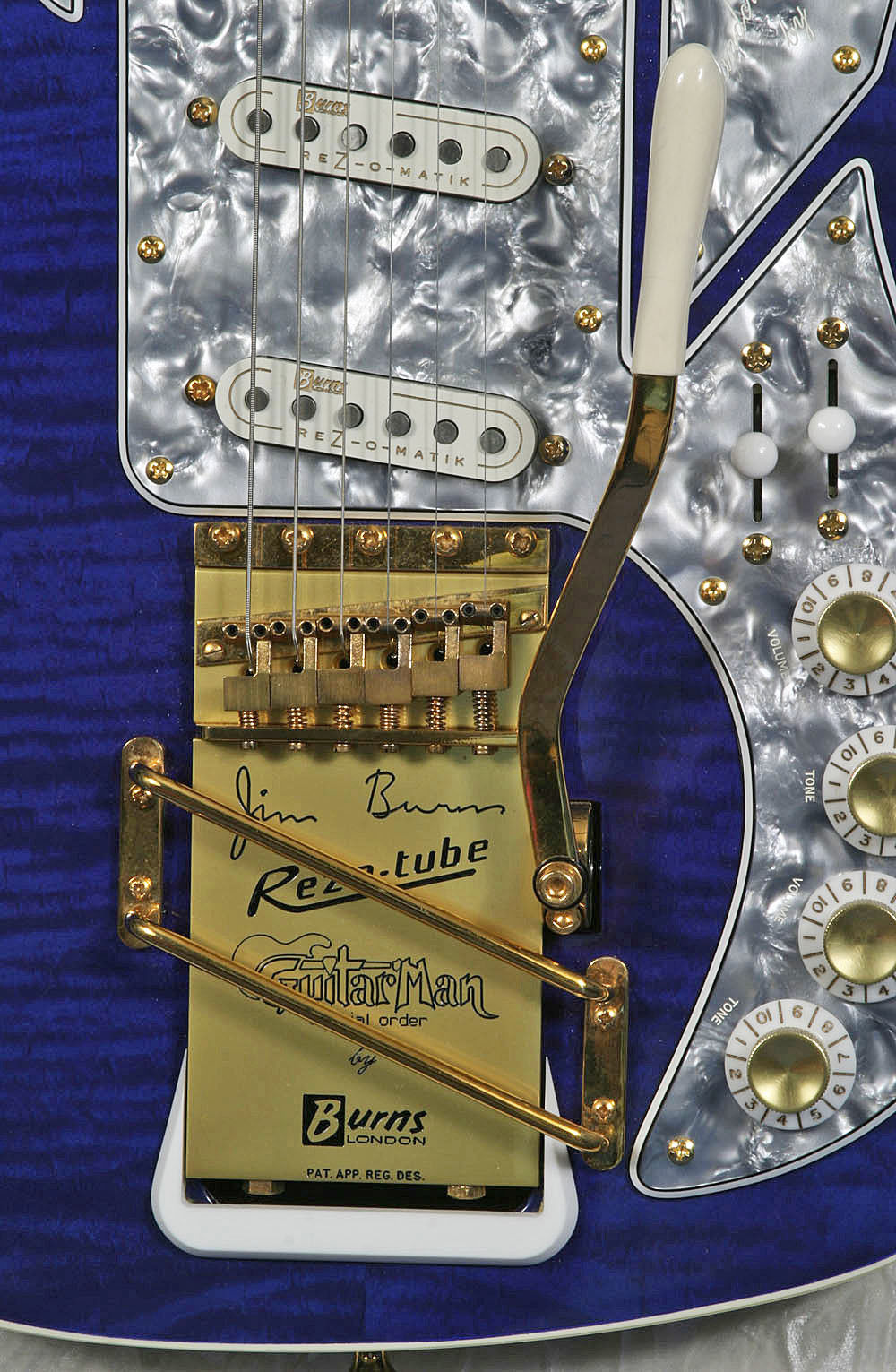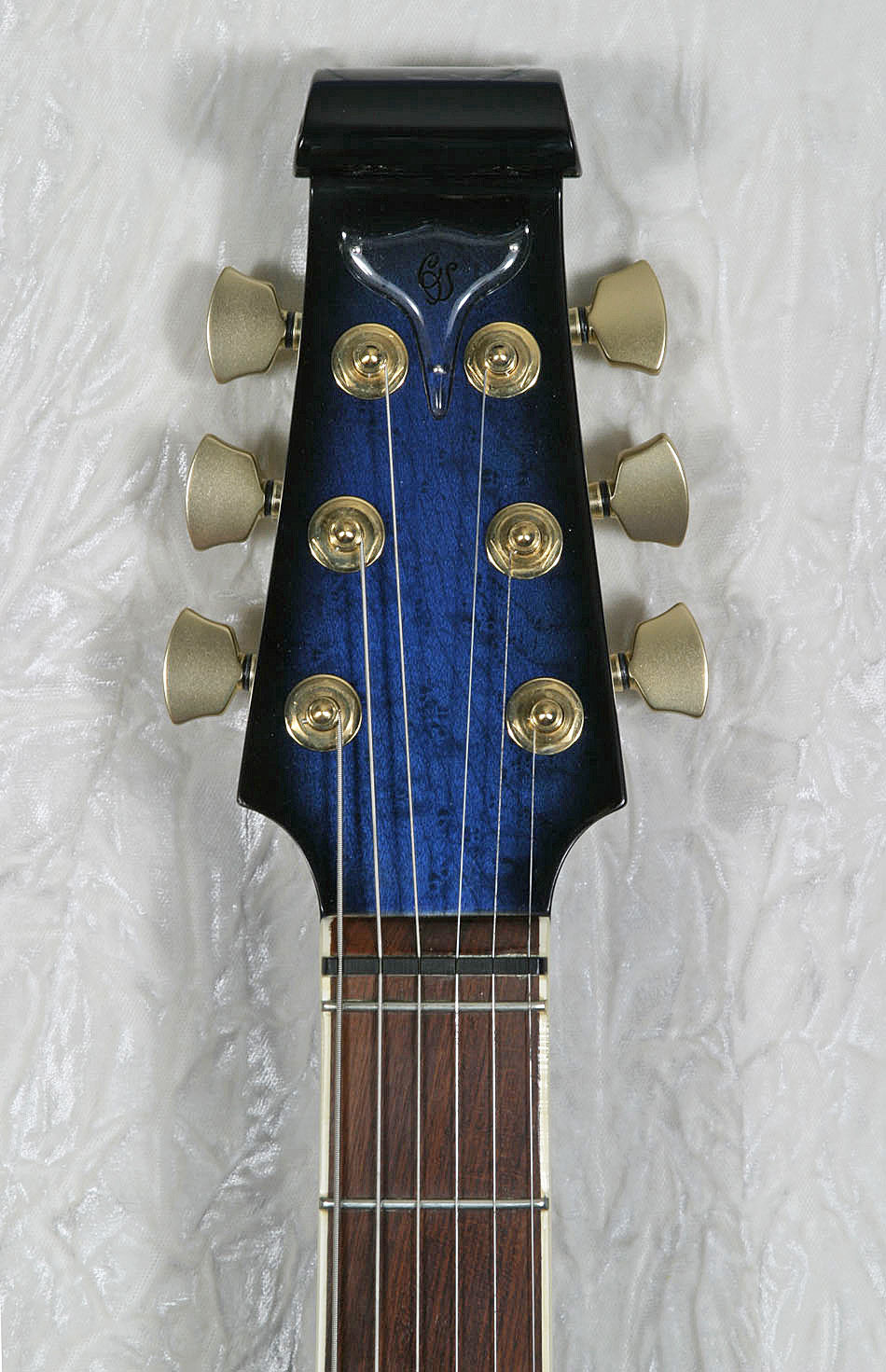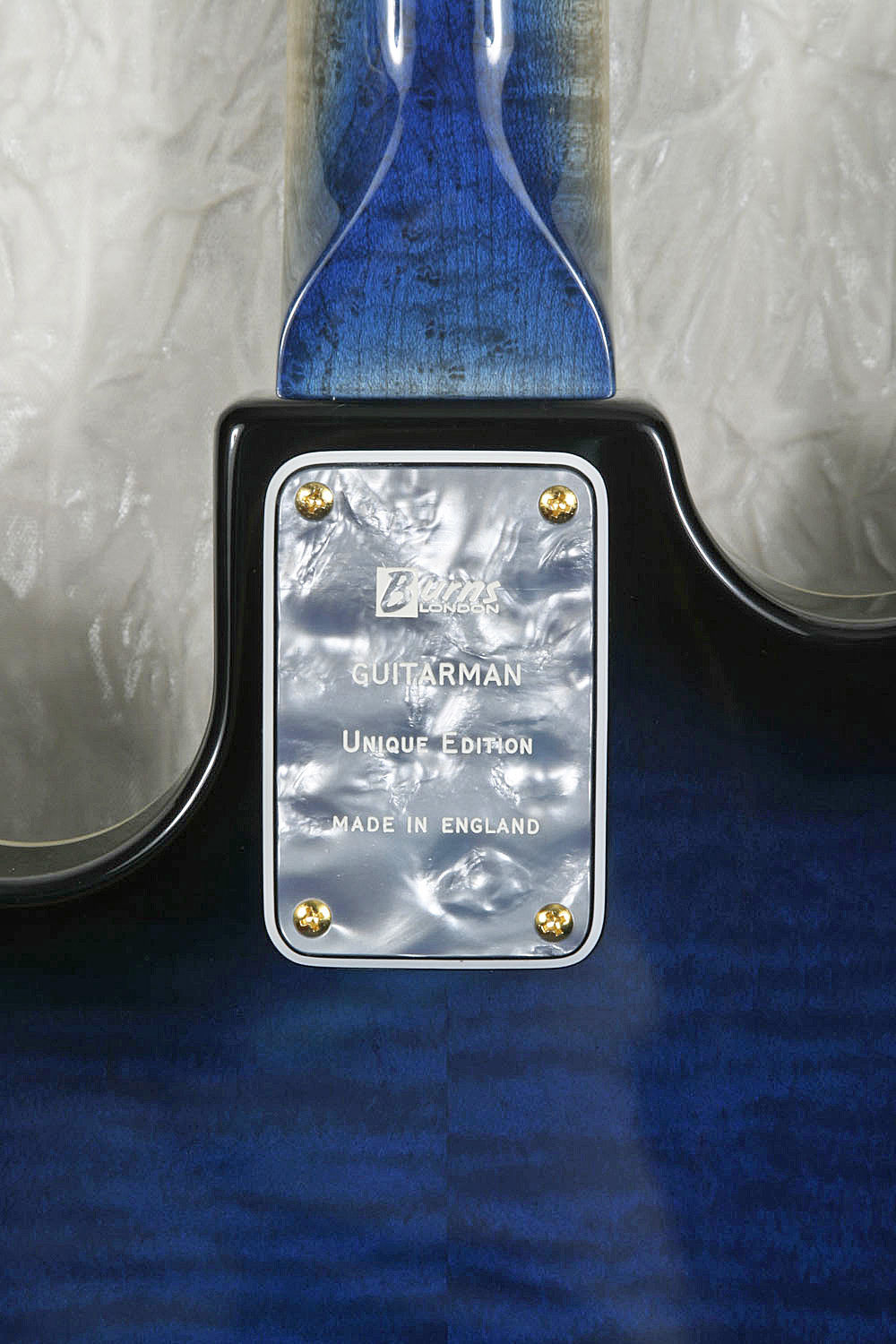 Back to Burns Home Page Burns Home Page