Bill Alston
The Cobra Family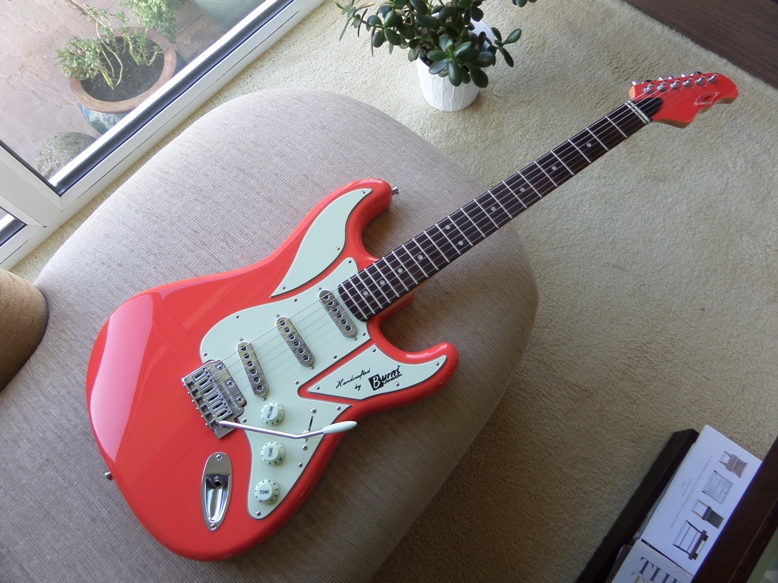 My 2013 Cobra in Guards Red now sold
Full details of the first three models are on Trevor's site. These are the 1998 Cobra and Cobra Deluxe along with the newer version launched in 2004. Since Trevor stopped updating his site there have been some changes to the model and some new Cobras launched
Changes The cobra prior to 2010 had 2 string trees and no truss rod cover. In 2010 there were changes including a new smaller type of pickups and one string tree still no truss rod cover. Around 2010/11 changed to no string tree and a truss rod cover has an angled headstock. Around 2015 Burns started producing the Cobra and the Marquee with the new Full contact trem unit which according to Barry Gibson provides better tuning stability, however that does not mean that some will not be produced with the old trem unit, apparently it depends on availability of parts.
Pictures to illustrate these changes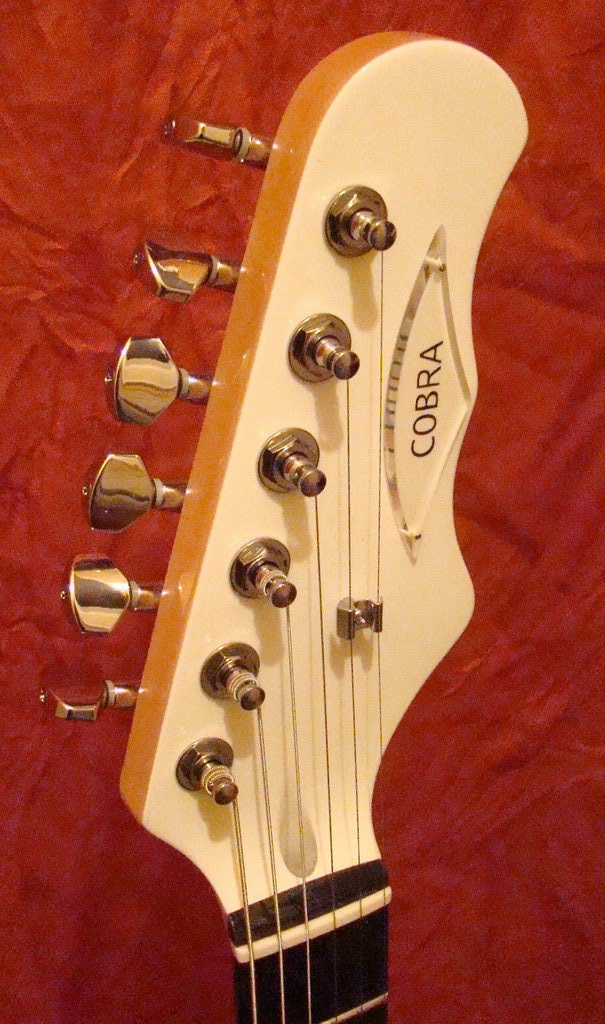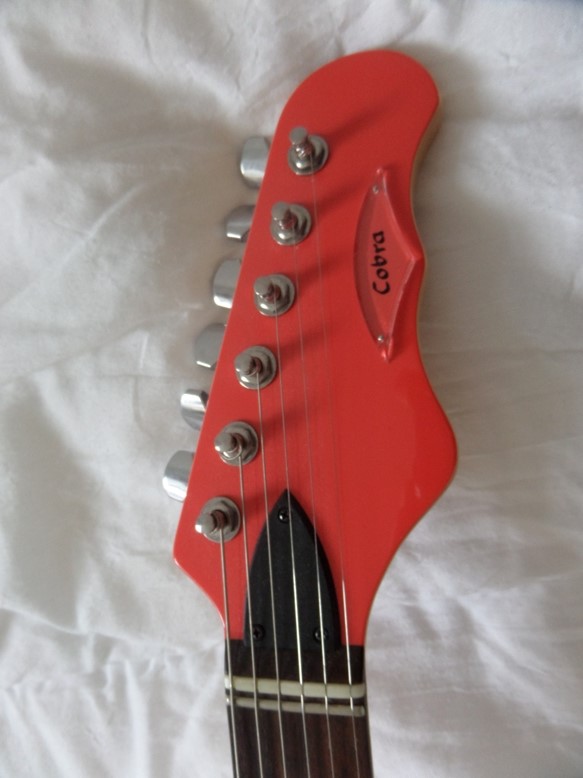 From left to right One string tree from around 2010, modern version no string tree, 2004 version two string trees
Complications August 2018
I have noticed several brand new Cobras (all white) with the pre 2010 headstock and indeed the white one on Burns web site has this headstock. The other colours have what we would think to be the right headstock. I emailed Burns and Barry told me that they don't really have any records of changing headstock types and it seems that they vary depending on which of the various Korean and Chinese factories build them. So perhaps the headstock changes were not deliberate design changes merely factory changes.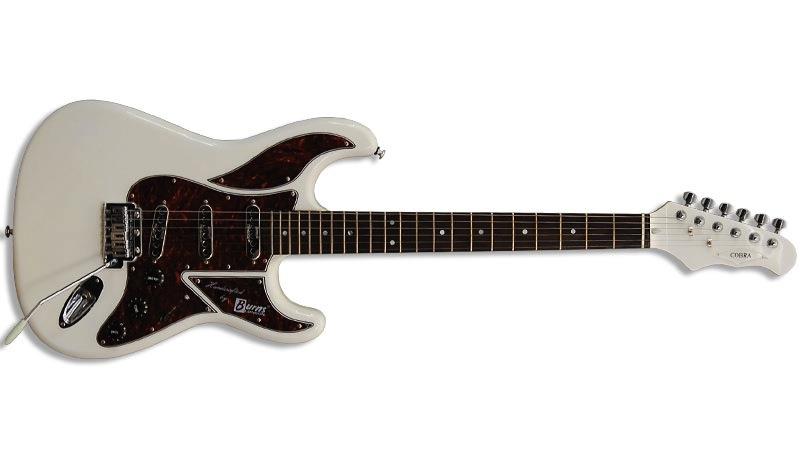 This Cobra is brand new 2018 and I have just seen an identical one from 2017
Around 2015 Burns started producing the Cobra and the Marquee with the new Full contact trem unit which according to Barry Gibson provides better tuning stability, however that does not mean that some will not be produced with the old trem unit, apparently it depends on availability of parts and which factory is doing the build.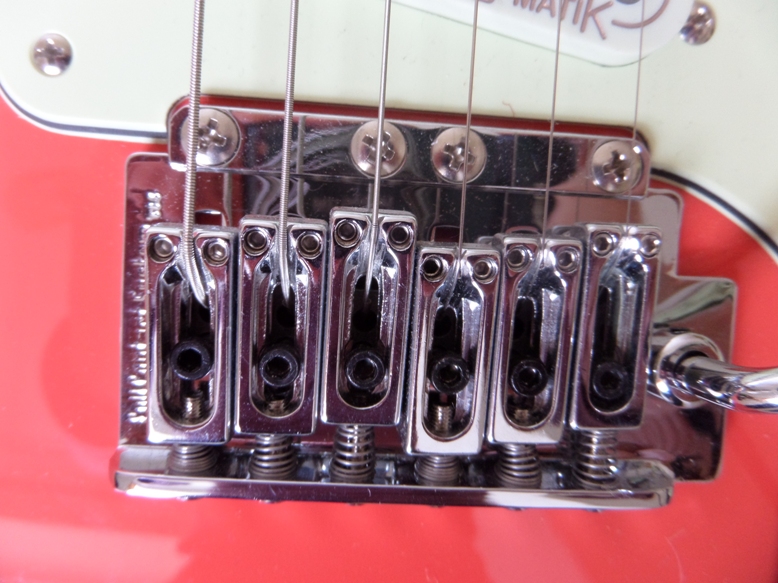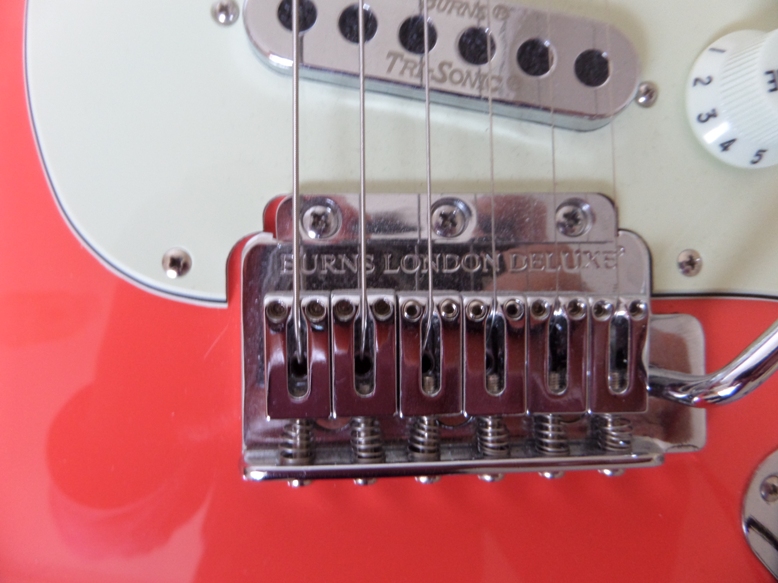 Full contact trem on a Marquee and The Knife Edge Burns London deluxe trem
Models not covered by Trevor
At least three models have been launched since Trevor last updated his website. These are the King Cobra the King Cobra Custom and the Cobra Neomatic.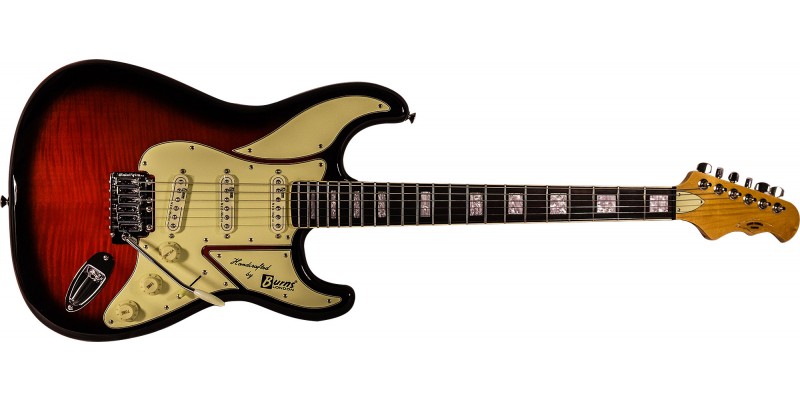 King Cobra

Cobra Neomatic
King Cobra
This is a current model made in China launched in 2014 the following information is taken from Burns web site and added to from seeing changes to the guitar.
The Burns King Cobra guitar is based on the '90s Drifter Custom and the double-cut body shape has a full and rounded form reminiscent of the '70s. The neck's gloss polyurethane finish is wider and flatter than the Fender equivalent of that era and the medium-gauge fretting is excellent and the white edge binding adds a finishing touch.
While many contemporary Burns fingerboards are buffed to a shine, this one exhibits the even dryness you would expect from quality Indian rosewood. One of the uniquely features of the King Cobra is the trio of Mini Tri-Sonic pickups that are designed to emulate the classic, larger-format vintage pickup's sound but in a smaller footprint.
Features include:
Flamed maple top
Bolt-on neck
22-fret Indian rosewood fingerboard
Three-piece alder body
Knife-edge vibrato
Locking machine heads
Three mini Tri-Sonic pickups
The newer models feature 3 Neo Matic Pickups change occuring around 2015
Master volume and independent tone controls (with push/pull action for two extra pickup settings)
Five-way selector switch
Block neck inlays
Neck binding
Available in the following colours:
Honeyburst or Greenburst
Have recently seen 2015 or 2016 Models in Red and Baby Blue but Burns Website doesn't feature these colours.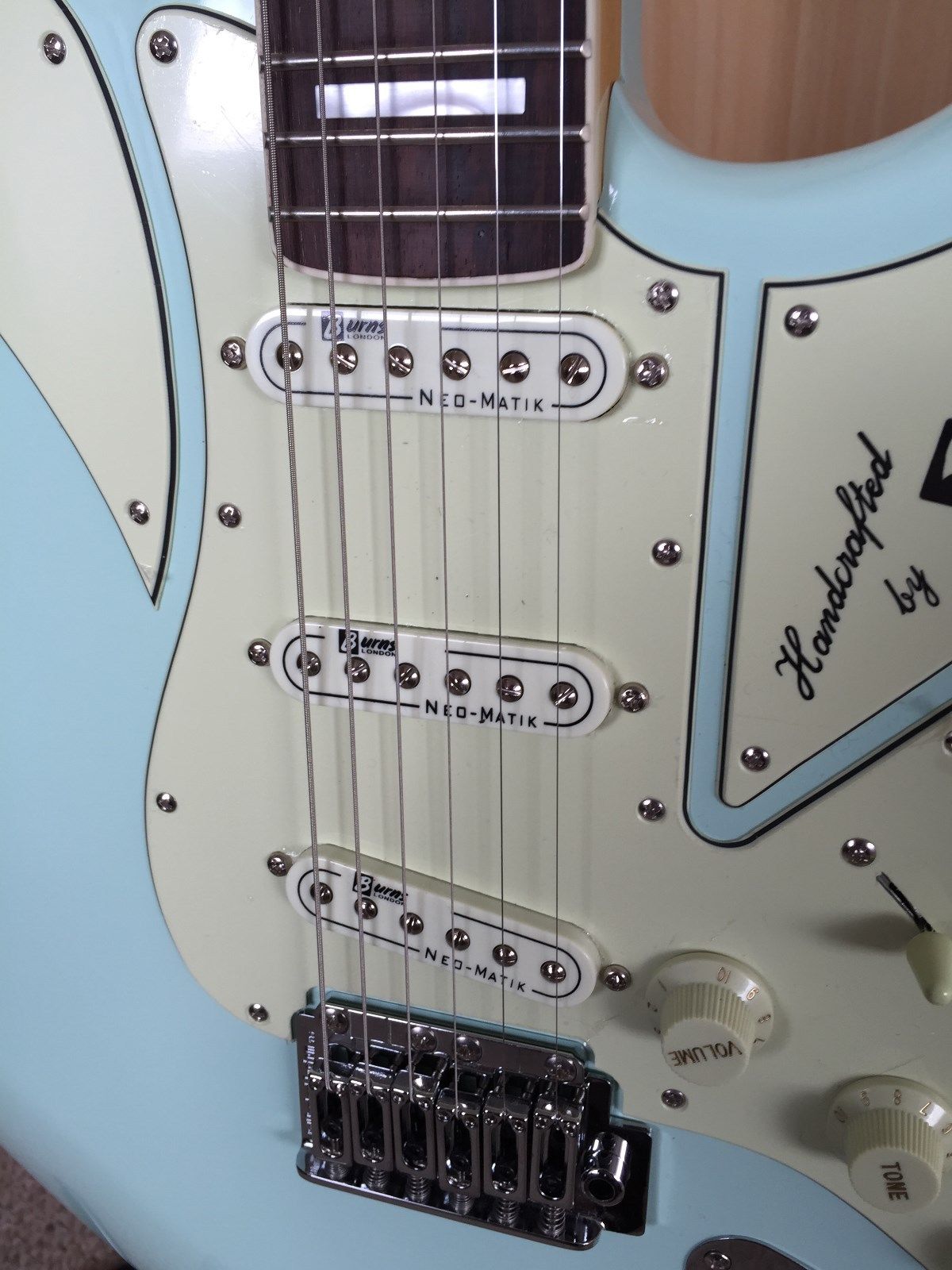 A 2015 King Cobra baby blue? and Neo Matic pickups

2016 Red King Cobra
Cobra Neomatic
Also a current model made in China and launched around the beginning of 2016. Again all the info I have is from the Burns website reproduced below. It appears to be the new Cobra the main change being the pickups.
This design originates from the popular Drfiter Custom model with matching colour batwing style headstocks.
It features the new Burns knife edge tremolo system and has the low noise, high output Burns NEO-MATIK pickups.
Standard features are the bi-directional truss rod and the push-pull tone control that gives increased pick-up selections.
The guitar is available with a rosewood fingerboard, split three-ply mint green scratchplates and a choice of body colours.
Features include:
Knife edge tremolo system
Burns Neo-Matik pickups
Three piece pickguards
Rosewood fingerboard
25.5" scale
5 position selector switch
Neck and middle pickup tone control
Bridge tone and push/pull pick up control
Front mounted jack socket
Available in the following colours:
Red, White, Black. Baby blue or Greenburst


King Cobra Custom
Not easy to find information on this guitar as far as I have been able to ascertain the guitar has 2 BaroMatik Humbuckers and as well as the three way switching uses the Varitone 5 way selector as on the Marquee MR2. They have a natural swamp ash or a flame top alder body.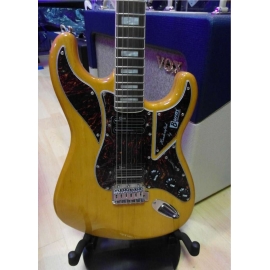 King Cobra Custom in Natural Swamp Ash
Further information on the King Cobra Custom I have seen one of these for sale on Ebay here is the Ebay description of a 2015 King Cobra
Currently retailing for &pound349.00. Grab a bargain and "Buy It Now" for &pound220.00.
Swamp Ash body. Maple Neck. Rosewood fretboard.
4 way Humbucker switching rotary control.*
Wilkinson Hot Zebra MWHZ IV Humbucker Pickups.** replacing original pickups
Locking tuners.
Metal Strap Locks replacing standard strap buttons
Machined steel Vibrato Block replacing standard zinc block.
Non-mud tone control.
In addition to the conventional 3 way [Bridge] - [Bridge & Neck] - [Neck] pickup selector there is a rotary switch in place of the first tone control to select the various coils:-
1) Full Humbuckers
2) Outside coils (tele).
3) Inside coils (strat)
4) Neck single & bridge Humbucker.
Some pictures of the Ebay Guitar not original pickups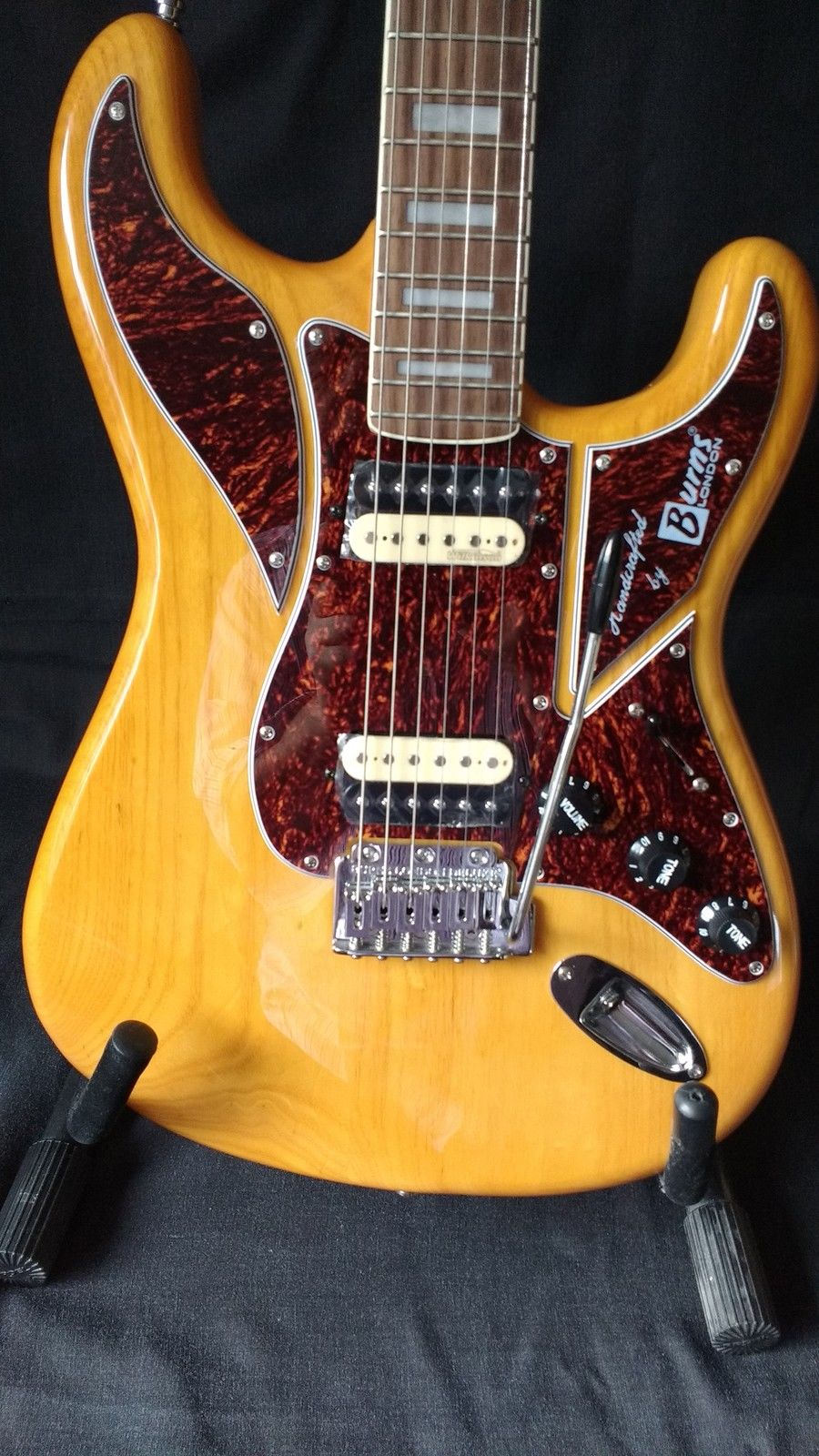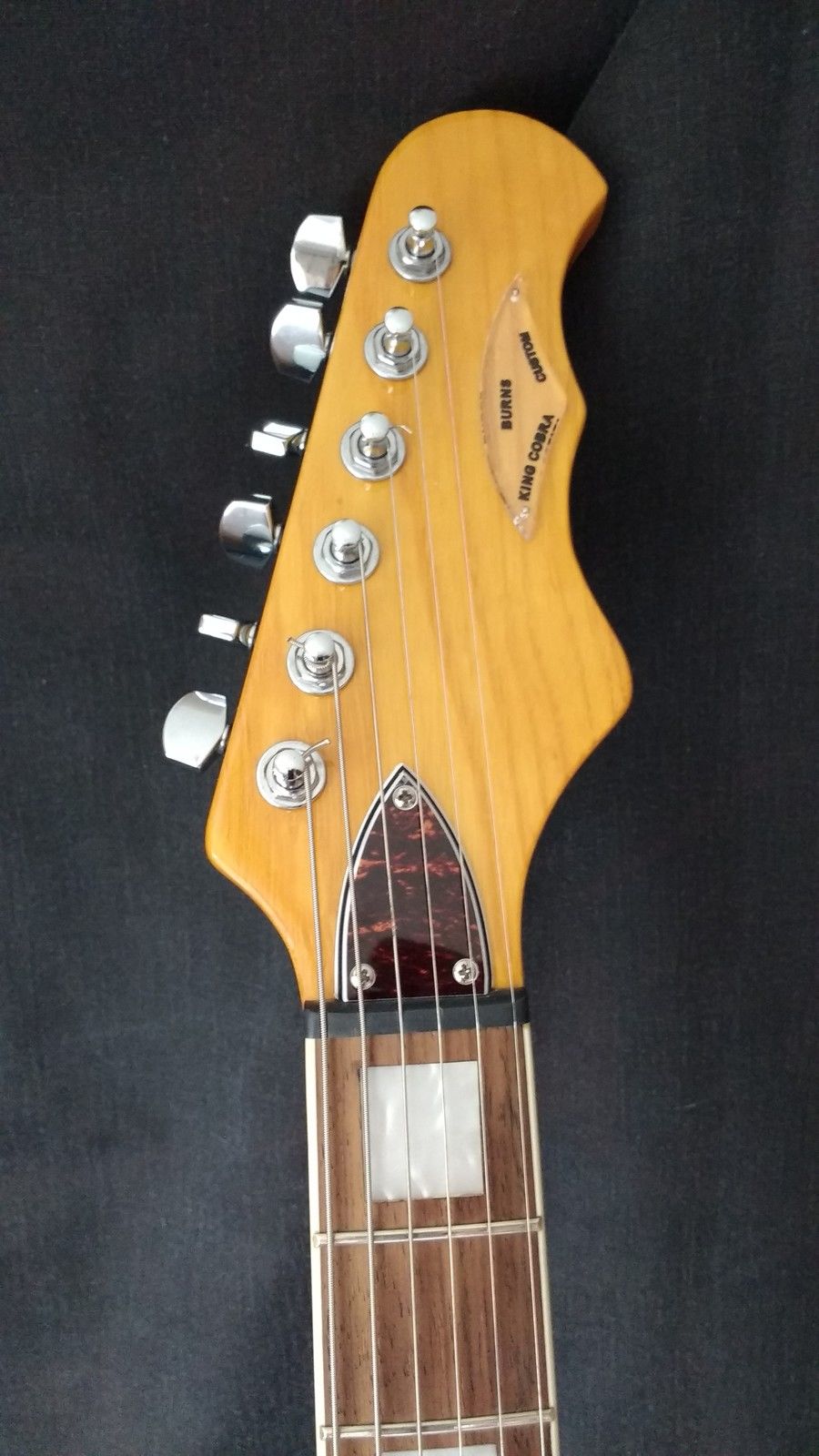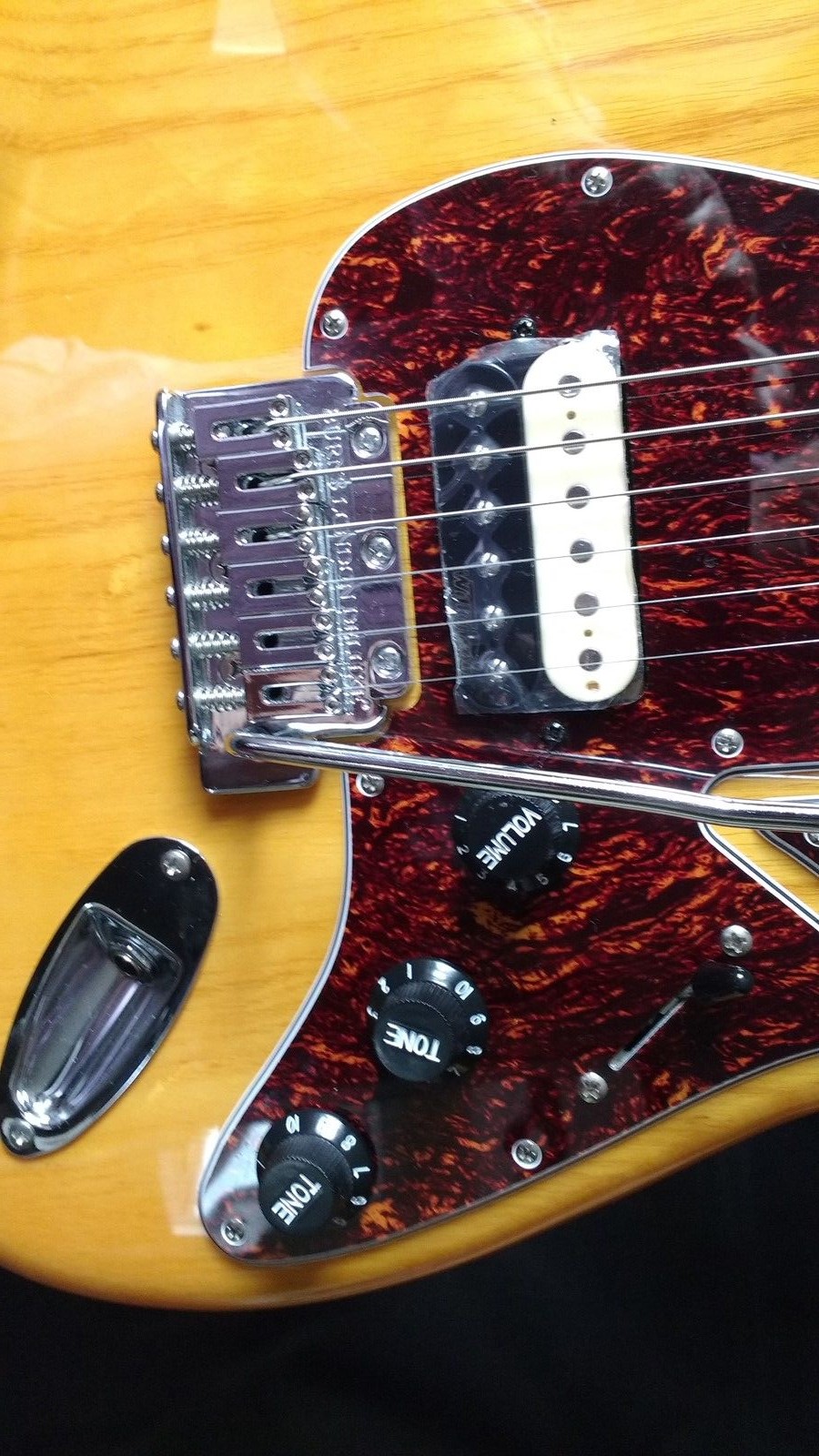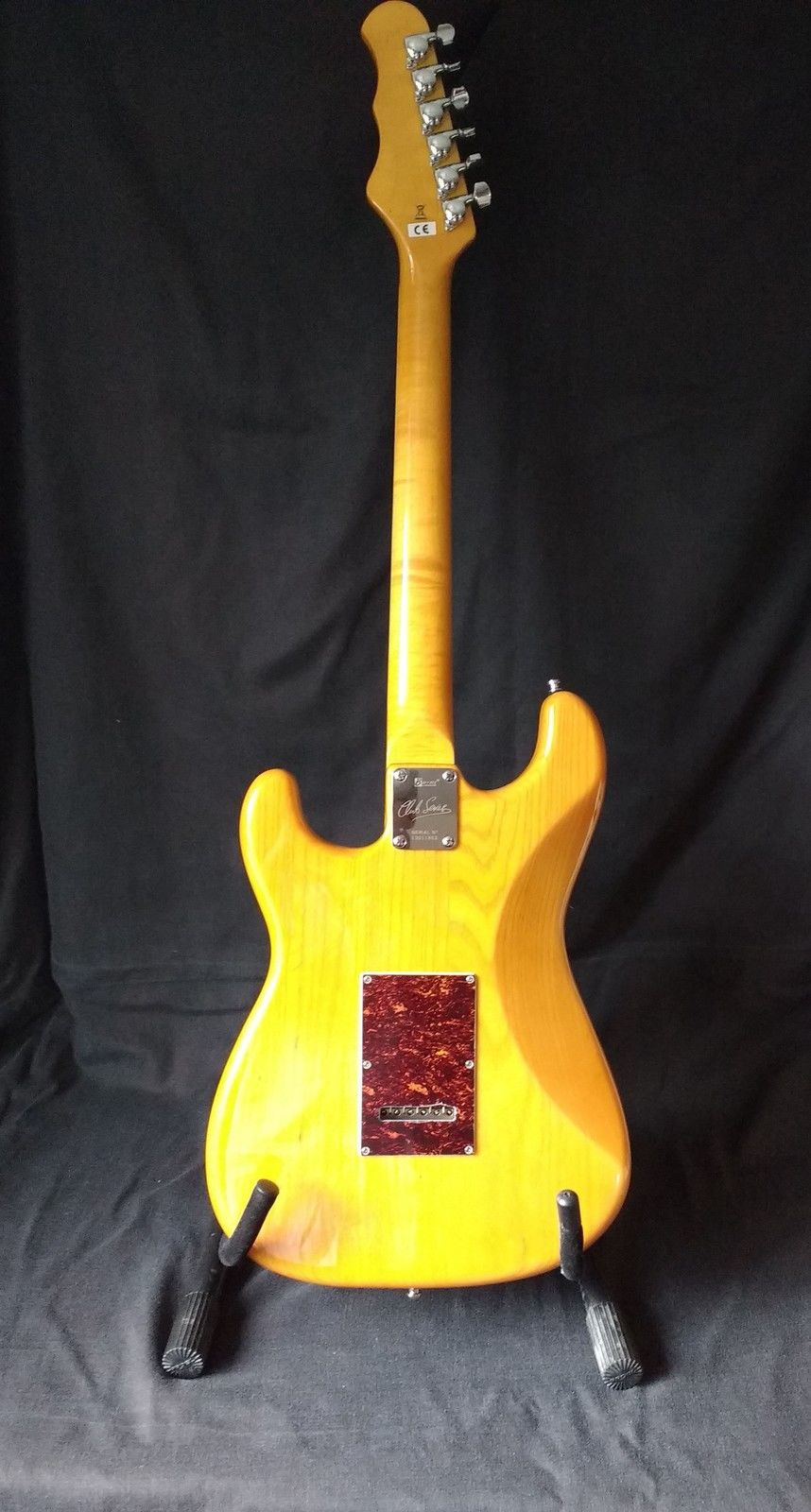 Note the Trem is not the latest full contact trem for some reason.
Rare Guitar?
This Cobra sold for &pound200 on Ebay in January 2018. The seller claimed only 5 of these were made. He didn't know what was different about it but Barry Gibson had told him there were only 5 of them. The only significant difference I can see is the headstock, which has a single string tree and a truss rod cover.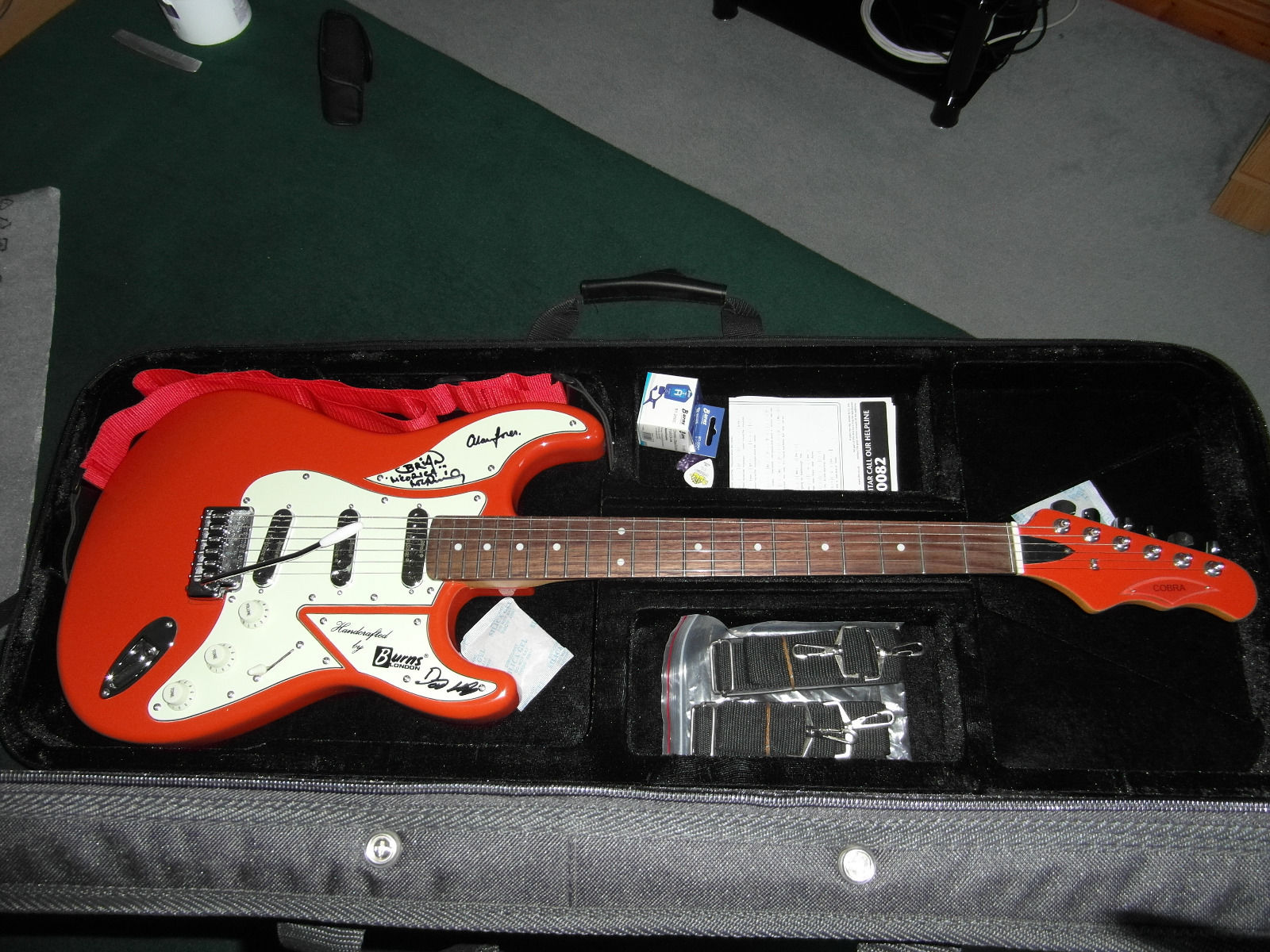 The signatures are from two ex Shadows and one Shadows spin off
Back to Burns Home Page Burns Home Page