Bill Alston
The Bison Guitars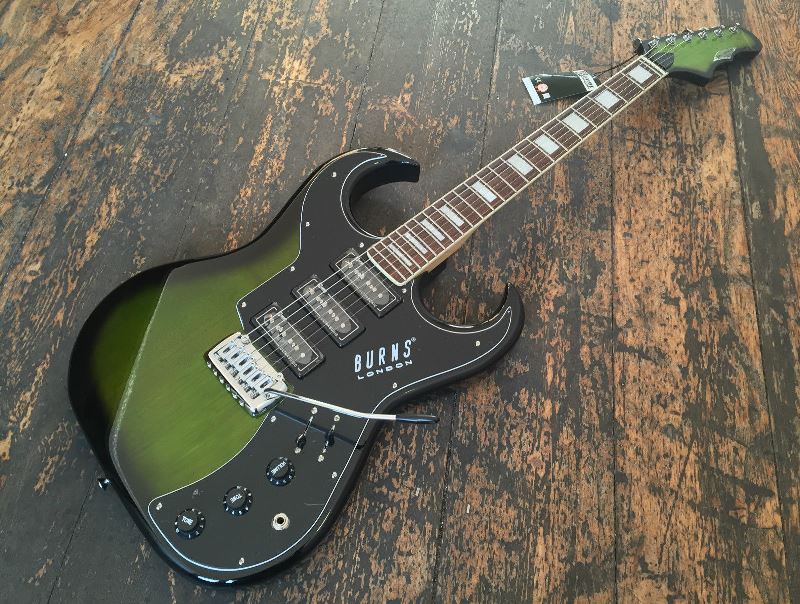 2016 Bison Ultrasound in Greenburst
Somehow the Bison seems to be the most iconic of Burns early models. Those of us starting to play in the 60s wanted a Bison. Whilst it isn't the purpose of these pages to look at the History of Burns a quick look at the models released in the 60s will help to reference the newer models, they were:
1961 The first model the Black Bison with 4 pickups was released and lasted for that year only
1962 to 1963 saw the production of the Black Bison model 2 and model 3 these had three pickups and differed fom each other in styling and control positions.
1963 to 1964 saw the Black Bison Model 4 with new trem restyled saddles and different knobs.
1964 to 1965 was the Bison 5 still three pickups rezomatics
There was also a two pickup baby Bison in 1965
Full details are in Pearls and Crazy Diamonds.


Burns London Ltd Models
As far as I can find there have been 10 variations of the Bison produced by Burns London Ltd. There are 3 current models and 7 discontinued models.
The current models are the Bison 62 first released as the Bison in 2003, the Bison 64 and the Bison Ultrasound. The first two have full details on Trevors site the last one was launched in 2016.
The only change I can find to Trevor's specifications is that the Bison 64 now has the new Burns full contact trem system, details of this appear on the Cobra pages.


Bison Ultrasound
Launched in 2016 and based on the 1963 Bison it has the Burns Alnico Ultrasound Pickups, which are said to be very close to the 60s sound. Seems to retail for around &pound350 to &pound400 making it about &pound100 or so cheaper than the 62 and 64.
Specifications
Made in China
3 x Alnico Ultrasound pickups said to be similar to P90s or perhaps Jazzmaster pickups
One master volume
Two tone controls
Two pickup selector switches
Push/pull pickup selector
Bi-flex two way type truss rod
Neck binding
Rosewood fingerboard with block inlays
Scale length: 24.3/4" 22 frets
Bolt on hardrock maple neck
43mm nut width
Classic polyester finish
Burns deluxe machine heads
Burns Batwing headstock
Basswood body
Burns® Deluxe tremolo unit
Chrome hardware as standard
Available in :Vintage Honey Sunburst or Greenburst but see note below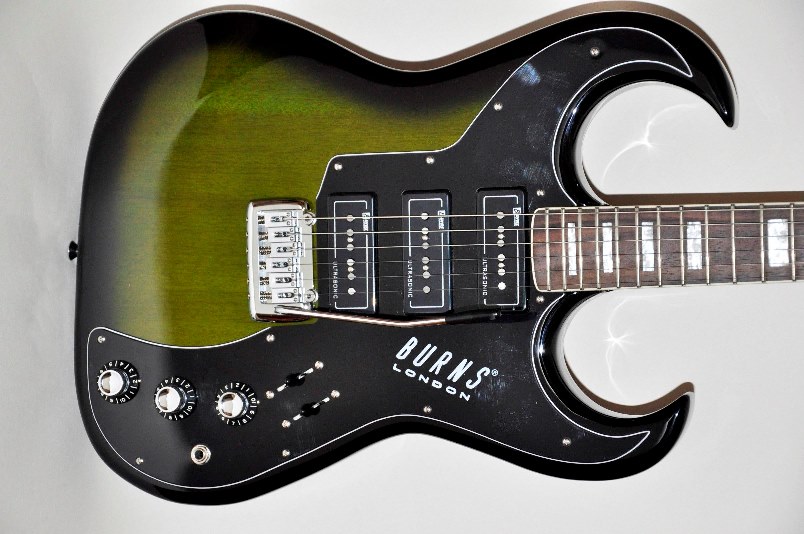 Close up of Ultrasound Body showing Ultrasound Pickups.


Despite what the Burns web site says the Ultrasound also came in Trans Orange this one was bought new in 2016 I have also seen a 2015 model in red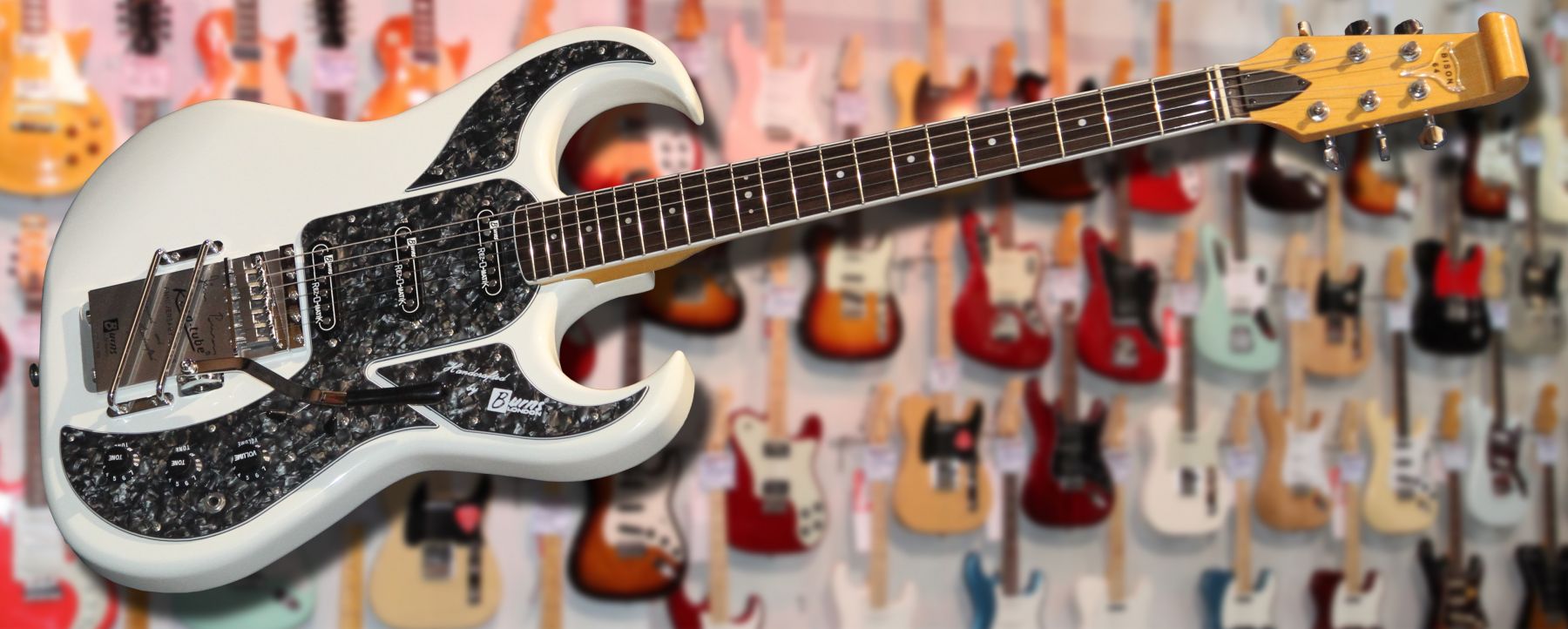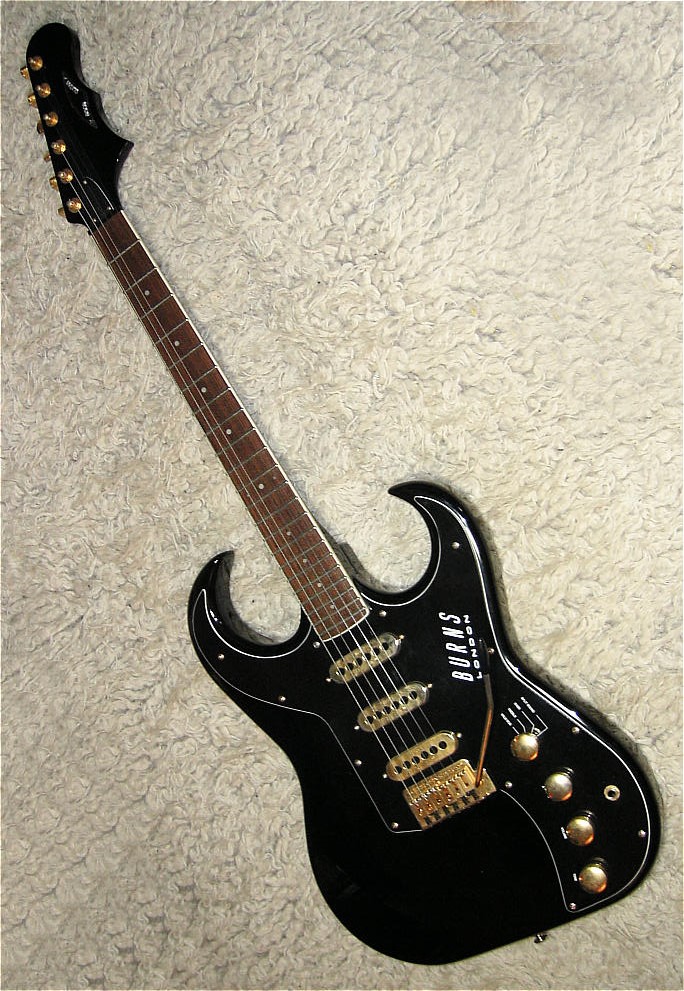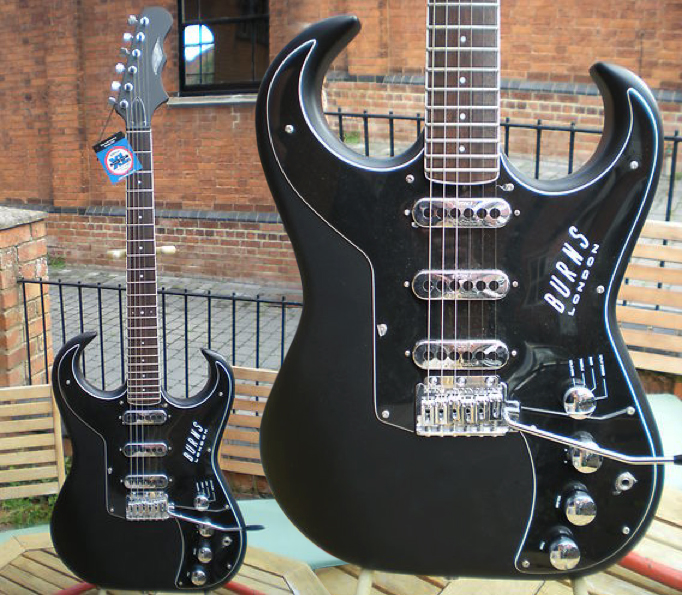 A white 64 Bison and two Black 62s one with Chrome one with gold.
Bison Circuitry
The following explanation of the modern Bison circuitry was posted on the Burns Guitar Forum having been supplied by Alan Entwistle in January 2016
The first switch (the one nearest the bridge) is a standard 5 way, the second switch however is a three way and is a tone switch: pos 1) is a bypass, pos 2) is the signal routed through a capacitance/inductance network, this gives the guitar a very smooth warm "Burns" sound (with still plenty of highs), and the pos 3) is "Wild Dog". The pickups are standard Rezomatiks, although on a small number of Bison 64's that we produced about 18 months ago had Rezomatik noiseless. The tone controls are also tweaked, the first tone control which operates on the neck and middle pickups, rolls back to a warm jazzy sound that is not as muddy as normal tone controls, the second tone control which operates on the bridge pickup rolls back to a high midrange, here again there still plenty of highs available, it tends to make the bridge or bridge and middle combined sound a bit like a humbucker, it is an excellent distortion smoother. The bridge tone also pulls up to engage the neck pickup as is standard with most Burns models these days. The new Bison Ultrasound has the same circuitry.
A one off
In March 2017 a one off was sold on Ebay for &pound395. This is the text from the sale
This guitar was manufactured around 6 years ago and has been stored in its case since. The item remains unused. It was designed by Alan Entwistle who looks after production of Burns guitars in London. This is a unique model and was built as a prototype which never made it into production. Unusually for a Burns guitar it employs 2 Humbucker pickups and a single coil in an HSH format. There is a 5 way blade selector and a push / pull to tap the humbuckers turning them into single coil. This is the same configuration as used in the later production Run of the Marquee MR3 The finish is a Metallic Black. Employs a standard Burns deluxe tremolo Comes with the original Burns case
Pictures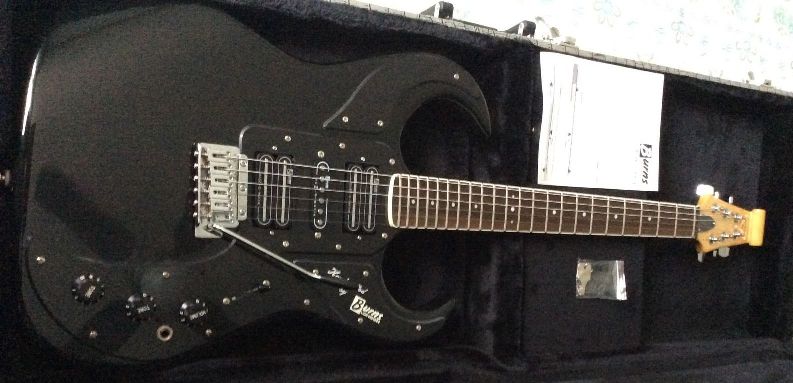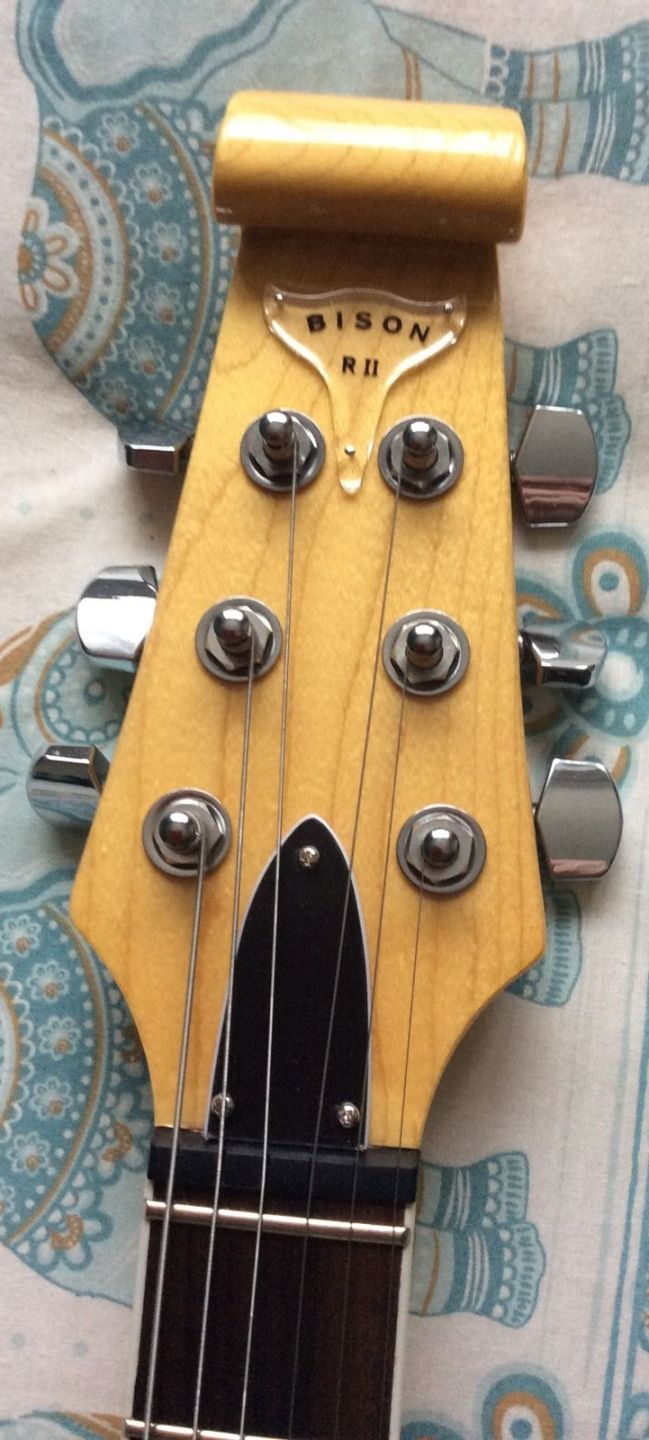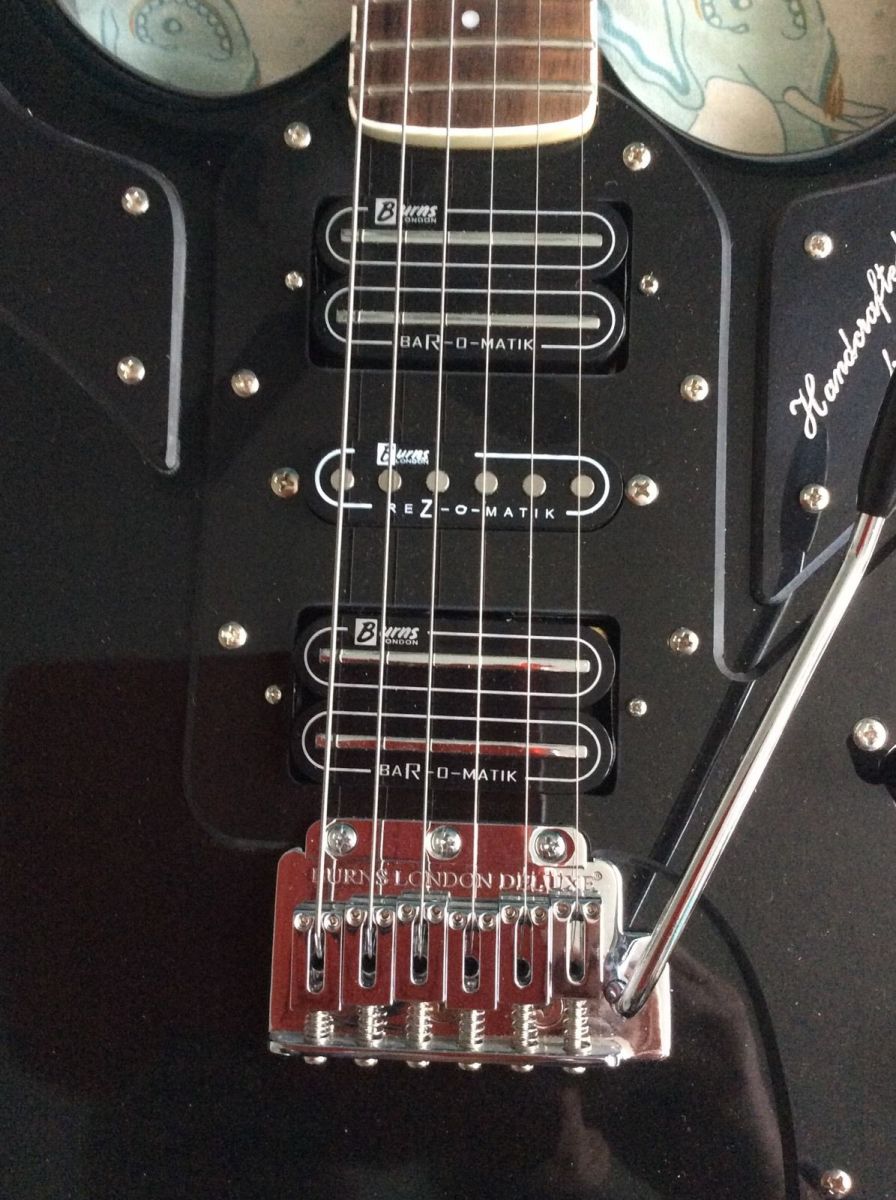 September 2017
It transpires that the above guitar was actually owned and sold by Bill Lovegrove, who tells me there were two HSH Bison R2s and he owned both, they differ only in the pickups. In addition an R1 was built which has a HH configuration.


Some Pictures Courtesy of Bill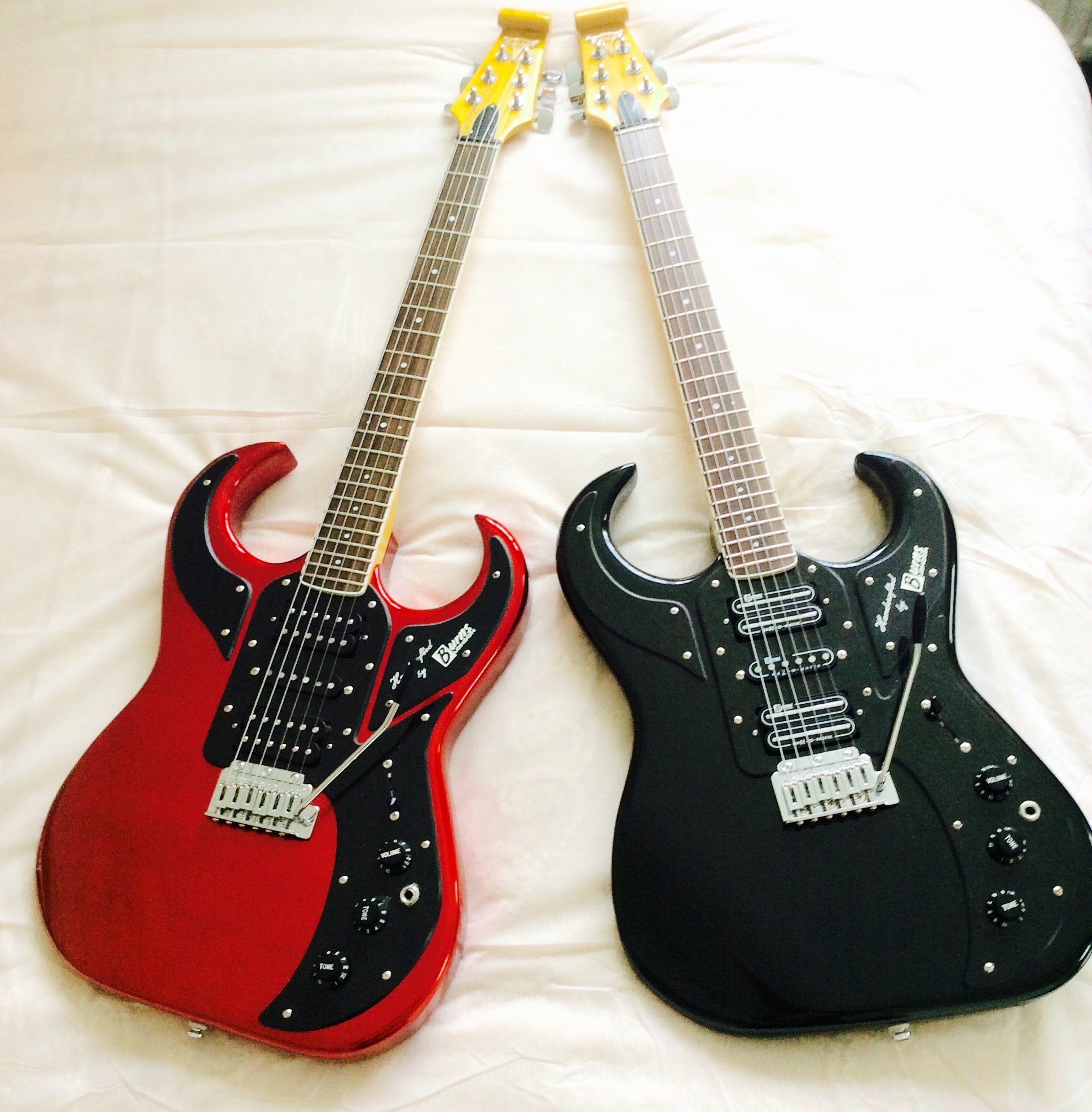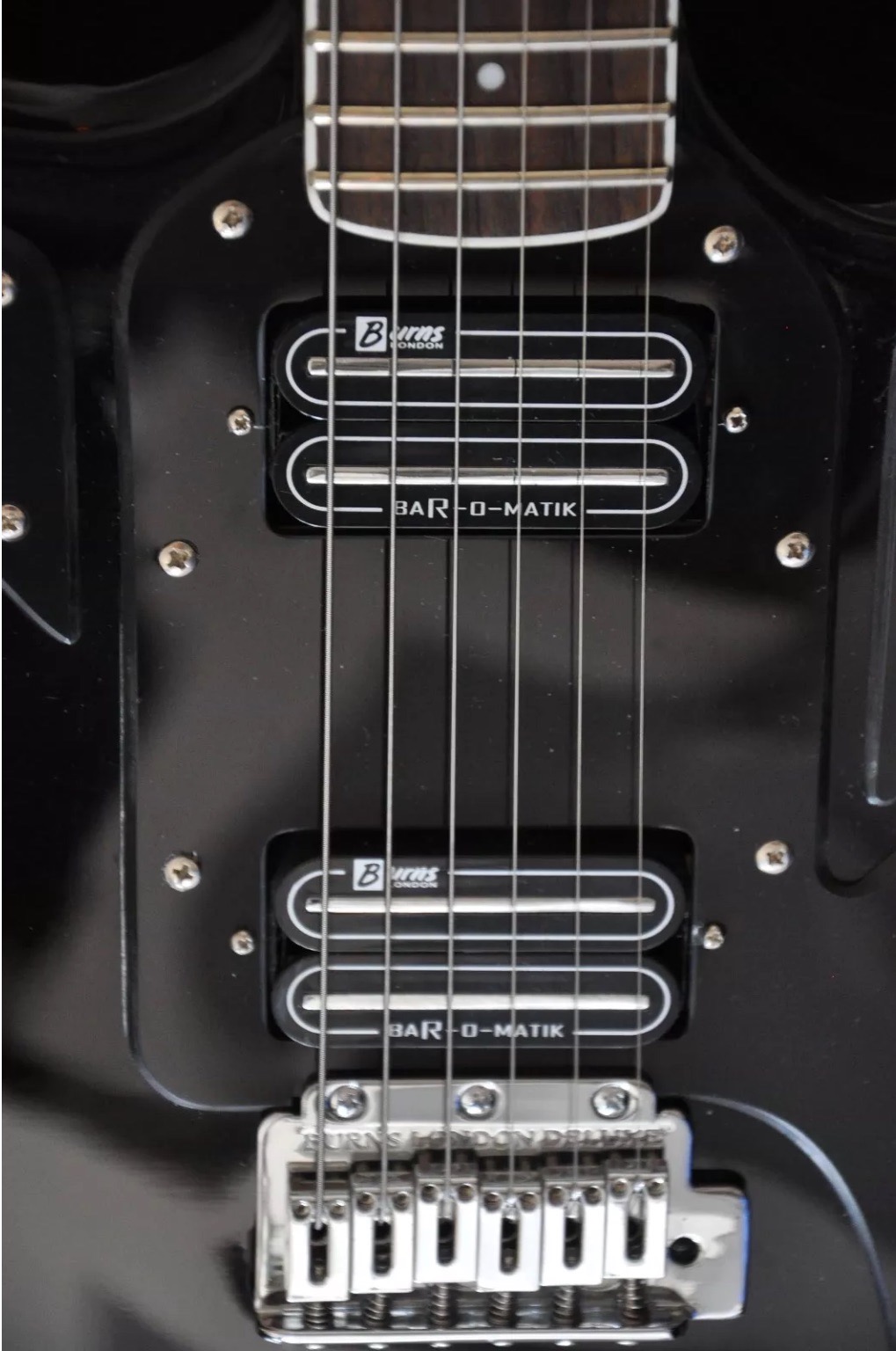 Discontinued Models
I can find 7 of these all of which are fully detailed on Trevors site they are:
Bison 2001 to 2003
Bison Custom Deluxe
Bison Deluxe
Bison 30/50th Anniversary
Bison Special Wild Dog
Bison Golden Jubilee
Bison 40th Anniversary Model only 12 made

Back to Burns Home Page Burns Home Page