Fender Yamaha Burns and Westone Electric Guitars
The purpose of these pages is to provide in depth knowledge of the specifications, history
and other details of Fender, Yamaha, Burns and Westone Guitars
Welcome to my extensive Electric Guitar Website
My interest in guitars dates back over at least 50 years, since I retired I have researched many models of guitar. In particular Yamaha, Fender and Burns and to a lesser extent Westone Guitars.
I welcome E-mails on any guitar related matter, will do my best to help with any queries and also happy to receive any information opinions or corrections on the models I cover.
As you navigate through my site you will see sections detailing several models such as my rare and unusual Yamaha Guitars section then there will be model specific pages. At this stage I have covered virtually all Yamaha Models, but have someway to go with Fender Guitars.
Copyright
There isn't any all copying, redistribution of the work I do is actively encouraged.
I am based in Lancashire in the UK and you can contact me Email. Please send me an Email on any subject referred to in these pages.I am always glad to hear from anyone who has guitar related questions or subjects they want to discuss or any guitar information they want to provide.
Updates
Updates are frequent but for ease I am now listing the most recent on the home page as I go along.


31st December 2022
Happy new year all see guitar information for announcement about price updates.
March 2023
Complete revision of the SA2000S page with a question can you help?
March 2023
Revised and updated all SA pages some have significant changes and additions others just minor detail.
All now adopt the site style.
Alex has sent some thoughts on VN and CN Korean Squiers Thanks Alex.
Added some MIJ Telecaster SEs to the Thinline Pages and to the Traditional Tele Page
April 2023
Major update to Squier Classic Vibes including the 2023 offering
The Classic Vibe pages now in 3 parts much more manageable.
May 2023
Major new project Made in Japan Squiers as usual any extra information appreciated.
June 2023
Some tidying up of the MSG Image page includes the addition of the service manual for the Standard.
See SA intro page for a major pickup resource started on the Yamaha Forum
Link Yamaha SuperAxes
June 2023
A pickup discussion thread on the Yamaha Forum has revealed a lot we didn't know about SA pickups see
Yamaha SA Pickups
I would recommend reading this thread better still join the forum
Many SA pages updated
August 2023
Korean Squier page updated with info about solid body E9s any extra info appreciated
Link Squiers Made in Korea
Posted the only accurate MIJ serial number chart (except for Fuzzfaced) you will find on MIJ intro page.
here Introduction to Fender Japan
Sept 2023
The korean E9 story has reached a conclusion I think see Korean Squier page.
Link Squiers Made in Korea
Commenced work on American Thinline Telecasters will take some time to complete meanwhile comment and information welcome
Link Telecasters Thinlines USA
First stage on USA Thinlines now finished
October 2023
Major revamp of Highway 1 and American Special Strat Page lots of info added
Link Highway 1 and American Special
October 2023
Joe Sparicio has provided another manual for the Image guitars this time for all three models go to
MSG Page
A real mystery Superaxe have a look and let me have any thoughts
Superaxe intro
November 2023
Been working on American Telecasters 3 new sections
Telecaster Plus Models Link American Telecaster Plus
American Deluxe Models Link American Deluxe Telecasters
American Set Neck Models Link Set Neck Telecasters
December 2023
Working on a major project on MIJ Export Guitars strat here MIJ Export Guitars Intro
First half of the Telecasters finished more to follow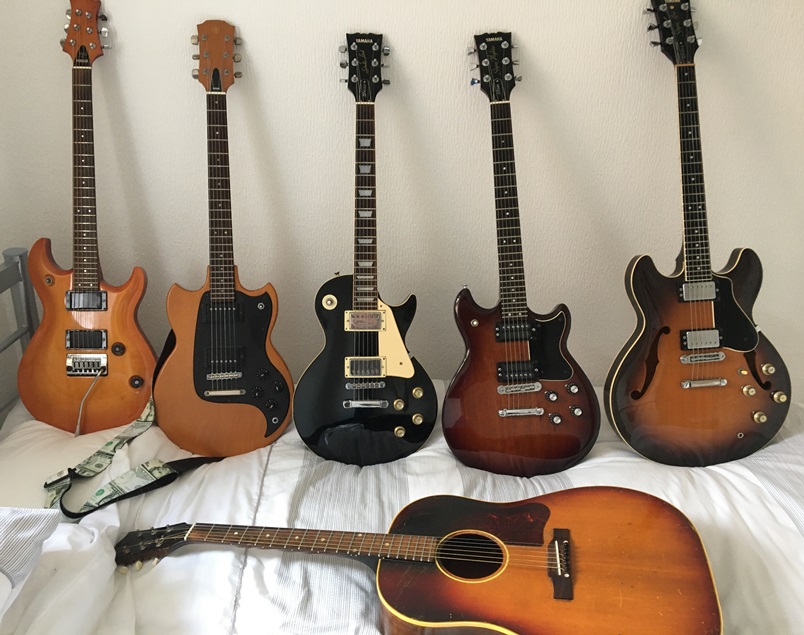 Some of my vintage Yamaha and a Gibson see page my guitars for these and others
Link
My Guitars